Almaty Kazakhstan

Alma Ata | Current time | Weather | News | Map | Airport | Hotels
This Almaty Kazakhstan page gives an overall picture of the city through various images of places of interest. If you are interested in different information other than the photos of Almaty, then please choose the appropriate links above and you'll be taken to more detailed information on that Almaty topic.
Would you rather stay on this page to check out the coolest Almaty pictures? Welcome. Below are the pictures with a brief description to each one.
If you find an image too small, just click over that image and you can have a larger one on your screen.
All these photographs are taken by Ivan Safyan Abrams who is kindly sharing them with us to let us see what Almaty is about. Thank you Ivan for sharing these great shots.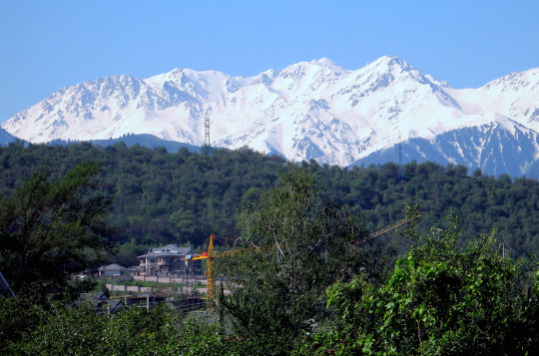 Almaty Mountains

Almaty is situated at foothills of the Zailiyskiy Alatau range of the Tien Shan Mountains. This picture was taken end of May.

The green city of Almaty, against the beautiful white snow capped mountains is even more attractive when you are actually there.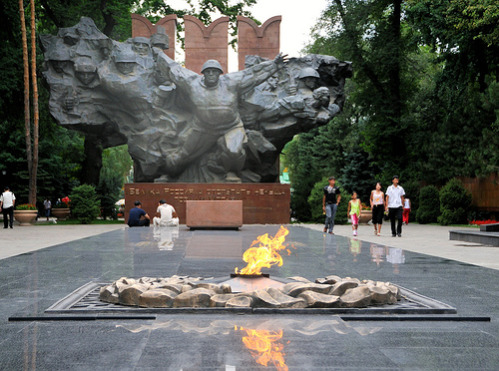 Almaty Parks

World War II Memorial in the heart of the Panfilov Park. A must-see tourist attraction with many other war memorials to 28 heroes of the 8th Guards Rifle Division named after Panfilov.

A very busy place in Almaty on the 9 May, the Victory Day. If you are in Almaty, don't miss it. As you'll meet the real WWII veterans and their great great grandchildren celebrating the holiday together. You'll hear many real stories from the  WWII fields.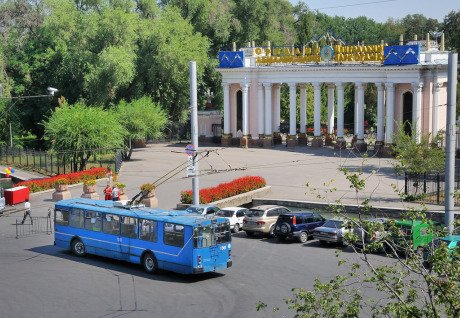 The entrance to the Almaty Central Park, the largest recreational point, still known as the Gorky Park.

A great day out, easy to get either by public transport or by a car (taxi) ;-). You know what I mean, if you are in Almaty.

You'll enjoy the zoo, funfair rides, aquapark and cafes.
Almaty Public Transport

Almaty is quite a compact city with lots of public transport, trams, trolleybuses and buses.

No shortage of taxis, real ones as well as the ones "going your way".

If you are in the city center, then the majority of places of interest are within a walking distance.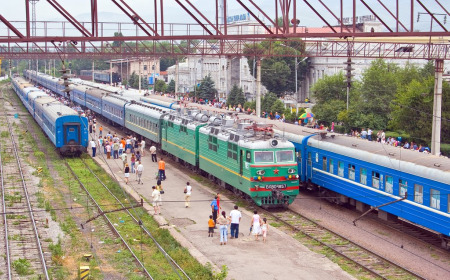 Getting there

The Almaty 2 Train Station is not too far from the city center.

So if you are arriving in Almaty by train it should take about 10-15 minutes to get to majority of the Almaty hotels.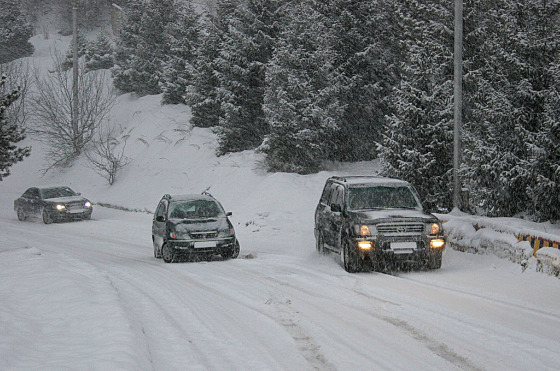 Almaty Weather

Always check the weather in Almaty. It can be very unpredictable, though the weather is never bad in Almaty.

It's just different. Make sure you have a 4x4 and snow chains are always handy in winter.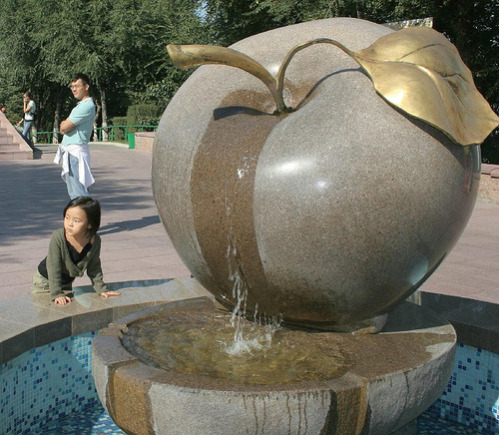 The Symbol of Almaty

When you are in Almaty, you'll notice apples (marble apples, plastic apples, apple shaped kiosks) in various parts of the city.

You wonder why? What if I say that apples come from Kazakhstan.

Well, the apple tree originated in the mountains of Central Asia and North-West of China. Hence, so many wild apple trees in and around Almaty.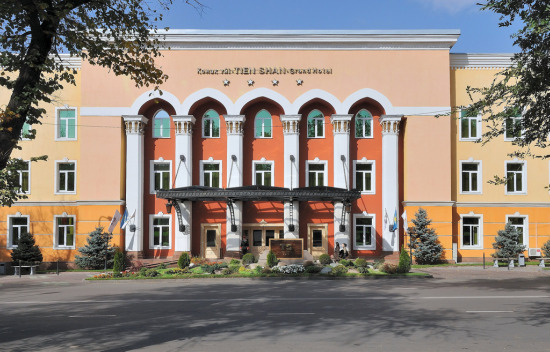 Almaty Hotels

Want to visit Almaty, but not sure if the hotels are up to your standard? Don't worry.

There are all types of hotels in Almaty, from luxury to budget. Make sure you make your reservations beforehand.

There are lots of events taking place in Almaty, and quite often hotels are full.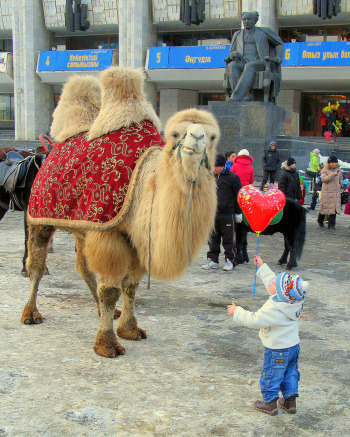 Jobs in Almaty

Everybody works in Almaty, even this camel. No matter what the weather's like.

You need to work when you need to work. No time to play with balloons. Smile and pose, smile and pose.

In Almaty there is time for everything. Time for work and time for pleasure.

Days are busy with people and cars rushing around.

Evening are busy with the same people and cars trying to rest from a hard day's work.
Almaty Places

Almaty has many historical building like this one.

It's the Orthodox Cathedral named after Zenkov.

A century old church has been used for many other purposes apart from its main purpose.

It had witnessed many historical events from 1911 Almaty earthquake to 1986 December events in Almaty.

Now it's back to its direct service,  the Ascension Church of Almaty.

Busy during Christian religious holidays, especially Easter and Orthodox Christmas.

Would love to share YOUR pictures of Almaty Kazakhstan? You can do it here. You can also add your story to support the picture or the pictures. You don't need to give out your email address or register in any way to do so. Just follow this link, it's simple.

Your Almaty photos can also be featured on my Kazakhstan Pictures map.

---
---
Return to from the Almaty Kazakhstan to Kazakhstan Discovery Home Page

---
---