Kazakhstan Public Holidays

---
Updated information on Public Holidays in Kazakhstan. Kazakhstan has lots in common with the post Soviet countries and that includes some Official Holidays. Kazakhstanis celebrate New Year Day, Women's Day, May Day, now renamed as the Unity Day, Victory Day as they did during the Soviet times.
The official Kazakhstan holidays introduced since its independence are the Independence Day, Constitution Day, Capital City Day, Naurys, Kurban Bairam and Orthodox Christmas.

Official National Holiday are also called Red Day ("Krasniy Den" in russian) among the locals, meaning it's a day off, as they are marked in red on the calendars.
Check 2013 Kazakhstan holidays calendar down below and mark your days-off to make your travel arrangements now.

Kazakhstan Official Holidays 2013

---
Mark these days on your 2013 calendar as official holidays in Kazakhstan to have your vacations planned now. ;)

January 1-2 (2 days)

January 7
March 8
March 21 - 23 (3 days)

May 1
May 7


May 9

July 6

August 30

October 15

December 1


December 16 - 17(3 days)

New Year Day

Unity Day

Defender of the Fatherland Day


Victory Day

Day of the Capital

Constitution Day

Kurban Bairam

Day Of The First President

Independence Day - National
---
NOTE.

Due to coincidence with weekends some of the hoidays were moved on to the next working day.

If you have Five Day week: then March 23 being an official holiday and so that you don't loose your entitled Saturday off you have 25 March added as your day off. So is July 6, being Saturday you'll an extra day off on Monday July 8. December 1 is Sunday so you have Monday December 2 as an extra day off.

And if you have Six Day week: You only benefit from December 2.
2013 Kazakhstan Holidays Calendar

---
Below is the 2013 Kazakhstan Holidays calendar that shows national holidays in burgundy color and pinks being days-off.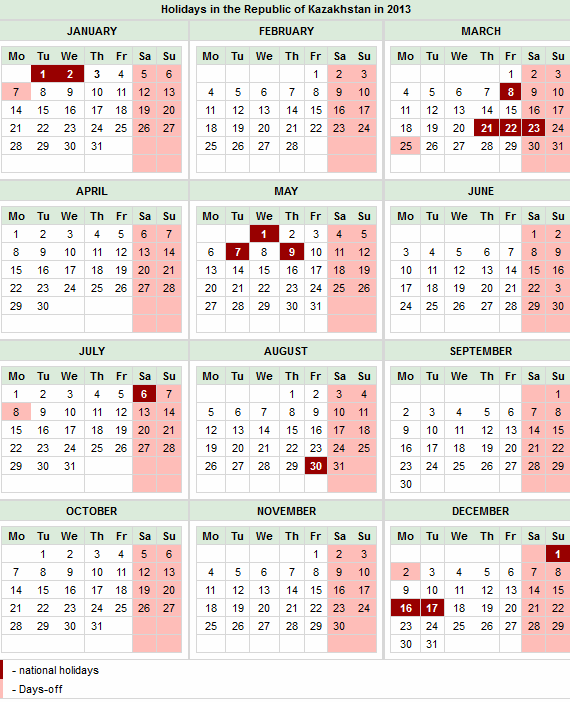 ---
---
More about Public Holidays in Kazakhstan
Back to Kazakhstan Discovery home page
---
---