---
Why Air Astana?

---
Air Astana is one of the fastest growing airlines in the CIS. It has direct flights from many major international airports making it easier to choose your best air travel option to Kazakhstan, especially if you are flying from another continent.
The air up there in the clouds is very pure and fine, bracing and delicious.  And why shouldn't it be? - it is the same the angels breathe.
- Mark Twain, "Roughing It"
For majority of its international flights AirAstana uses two main airports in Kazakhstan - the Almaty International Airport and the Astana International Airport. Although now Astana is the capital of Kazakhstan, most of the Kazakhstan flights still arrive at the Almaty Airport, as it kept its status as business and financial centre of the country.
The airline recently entered partnership with Lufthansa expanding flight offering for the passengers of both airlines. Air Astana also partners Lufthansa's frequent flyer programme Miles & More.
---
International Flights to Kazakhstan

---
Here I give you a list of international airports for AirAstana flights from four international airports in Kazakhstan, so that you have a general idea when making arrangements for your flights to Kazakhstan.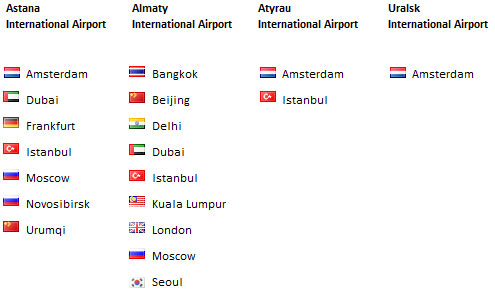 ---
Other International carriers flying to Kazakhstan

---
Of course AirAstana is not the only choice you have if you want to visit Kazakhstan by air. There are quite a few major international airline companies that fly regularly to either Astana or Almaty.
Here is the list of flights operated by various air carriers to and from Astana, Kazakhstan.
---
And these are the ones that fly to and from Almaty, Kazakhstan.
---
Please remember this information is only to give a big picture for your air travel to Kazakhstan based on the information available at the time of building this page. January 2010.
As you know all airlines regularly change flight destinations, schedules and airfares with the high and low seasons. Do check the websites of the airlines for the latest information.
To tell the truth, I haven't personally experienced flying with AirAstana, but I have friends who use them quite a lot.
---
Domestic Kazakhstan Flights

---
You know that distances between various cities can be quite far in Kazakhstan. It's to do with vastness of its territory. Unless you are an adventure seeker, you might want to use either a plane, a train, a bus or a car to get from A to B.
So if you have chosen to air travel within Kazakhstan, then along with Air Astana you have Scat Air which is mainly based in Shymkent Airport.
Scat Air serves quite a lot of domestic Kazakhstan flights and some flights to CIS countries. Mid autumn and late winter it has flights from some major Kazakhstan cities to Dubai International Airport (UAE), U-Tapao Pattaya International Airport (Thailand), Goa (India), Sanya (Hainan, China), Sharm el-Sheikh International Airport(Egypt).
---
---
---
Back to Top | Return from Air Astana flights to the Ultimate Guide to Kazakhstan
---
---