Astana Almaty Asian Games

Kazakhstan Winter 2011
Asian Games News | TV | Videos | Asiad Photos | 2000 & 50000 KZT
Kazakhstan is hosting the 7th Asian Winter Games 2011, aka ASIAD 2011. It's the first major sports event in Kazakhstan since the fall of the USSR.

Chimbulak and Medeo used to host many winter championships of the USSR, as well as some international events.
Since its independence there hasn't been enough attention paid to these sports facilities due to various reasons including financial-economic.
Now when Kazakhstan is back on its feet, it has ambitious plans as to consider the bid for 2022 Winter Olympic Games.
In fact, Kazakhstan unsuccessfully participated in the bid for 2018, but it only strengthened its desire to achieve the goal.
These Asian Winter Games should open the path now and let Kazakhstan have an Olympic test drive.;) Fingers crossed.
The VII Asian Winter Games Facts

5th January 2006 - Chosen as a hosting country in Kuwait (Home of the Olympic Committee of Asia)
USD 726 million included in 2008 budget for construction and renovation of sports facilities.
4135 Athletes
27 Participating Countries
69 Sets of Medals
5 Sports
11 Disciplines

30th January 2011 - Opening in Astana Arena
6th February 2011 - Closing in Almaty Baluan Sholak Sport and Culture Palace
The Asian Winter Games Torch Relay

Map of Kazakhstan
the map to see it in a larger scale. The map is the property of the Asiad 2011 Official Website.
Torch Relay And Itinerary

2011 January
- Torch officially lit in Kuwait Towers (OCA)
- Relay to start in Almaty, the major cultural center of Kazakhstan
- Taraz
- Chimkent
- Kyzyl Orda
- Aktau
- Atyrau
- Uralsk
- Aktobe
- Kostanai
- Petropavlovsk
- Kokshetau
- Kokshetau
- Pavlodar
- Ust-Kamenogorsk
- Ust-Kamenogorsk
- Taldykorgan
- Karaganda
- Karaganda
- Astana - the Official Opening of the 7th Asian Winter Games 2011
- Almaty - the Official Closing of the 7th Asian Winter Games 2011
Back to Top
Asian Games Mascot 2011

This welcoming and happy IRBI is the official representative and the main hero of the ASIAD 2011. Irbi, shortened from Irbis, is another name used for snow leopards. So how Irbi, the snow leopard became the mascot of the 7th Asian Winter Games 2011?
It's simple. Firstly, snow leopards live in the rocky mountains of Central and South Asia. And Kazakhstan is in Central Asia.
Secondly, the Snow Leopard is an endangered species.
And the snow leopards, aka Bars, aka Irbis are the symbol of power, courage and justice. As simple as that.
Asian Games Motto

Unity of Purposes - Unity of Spirit
Asian Winter Games 2011 - Participating Countries

Afganistan
Bahrain
China
Hong Kong
India
Japan
Kazakhstan
Kuwait
Kyrgyzstan
Jordan
Malaysia
Maldives
Mongolia
North Korea
Pakistan
Phillipines
Qatar
Signapore
South Korea
Chinese Taipei
Tajikistan
Thailand
United Arab Emirates
Back to Top
Winter Games 2011 Promos with the Famous Irbi
Back to Top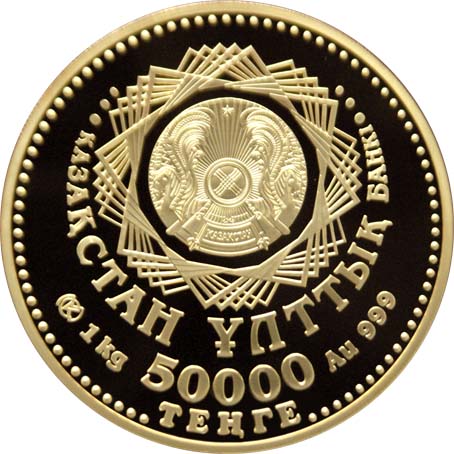 KZT 50 000 Gold Coin
Kazakhstan National Bank released KZT 50 000 gold coin to commemorate the 7th Asian Winter Games.
Asian Winter Games 2011 on 2000 KZT banknote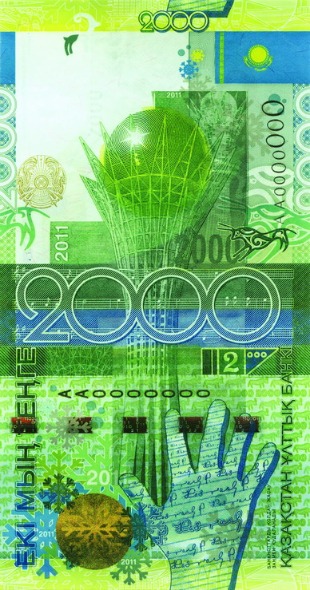 National Bank of Kazakhstan issued KZT 2000 banknote to commemorate 2011 major event in Kazakhstan - the VII Asian Winter Games.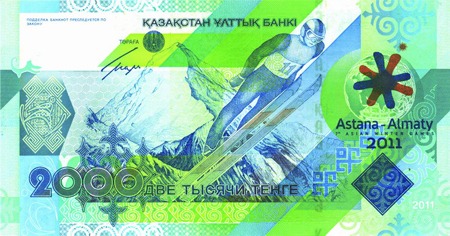 Back to Top
---
---
Leave Asian Games page to Kazakhstan Discovery Home Page
---
---