Medeo - The Highest Skating Rink in the World

---
It takes only 20 minutes to get to Medeo, aka Medeu from the city center.
Below is the view from the dam over the skating rink. The dam was built in 1960s to stop avalanches and mudslides.
How to get to Medeu?

---
As long as you are on Dostyk Avenue, which is one of the main avenues of Almaty you'll not get lost. You can take a public bus just in front of the Kazakhstan Hotel. Alternatively drive or walk straight up towards the mountains and you'll hit Medeu. If you continue further you'll get to Chimbulak Ski Resort.
Medeu is located at an altitude of 1691 meters above sea level and surrounded by small hills. They protect the area from any cold masses coming from Kazakh steppes in winter. That's how the weather is always milder there in winter and a bit cooler in summer than it is downtown Almaty. Just PERFECT any time of the year.
This video is to let you see how warm it can get. So if you are feeling a bit cold in Almaty in winter, you know what to do. Go to Medeu or go even higher to Chimbulak.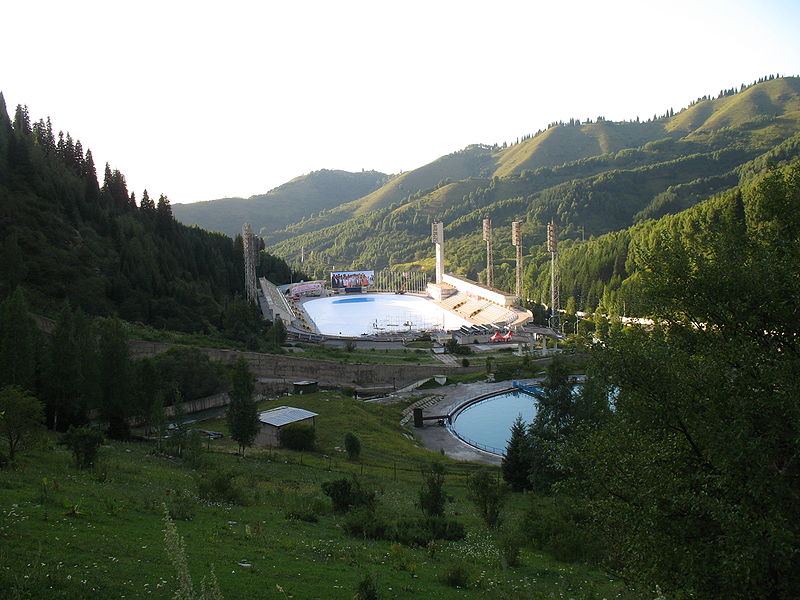 But please note that if you have rain in Almaty, it can be snowing in Medeu, in Chimbulak for sure. And some heavy fog, meaning 0 visibility.
Activities in Medeu?

---
You have the skating rink open to public from December to May. Even in summer Medeu is very popular among all. People go for picnics (Shashlyk), just take walks and enjoy nature.
If you are not keen in skating, there are 842 steps staircase, you can amuse yourself at. Just in case if you want to keep fit. It's not hard to go up, hard to come down. To me anyway.
Medeo Photos

---
Since the collapse of the Soviet Union, the international popularity of Medeu died down a bit, as no competitions of great importance have been held. Although for several years the ice rink was used to hold the popular international music festival "Voice of Asia".
Have you ever wondered what Medeo actually means? Read it here.
Here Are Some Medeu Videos
The videos do not belong to Kazakhstan Discovery and they are fed automatically by Youtube.
---
---
Back to Kazakhstan Landmarks
Back to Kazakhstan Discovery home page
---
---