---
Hotel Dostyk Almaty - THE Place to Stay

---
Hotel Dostyk Almaty was the best Soviet era luxury hotel in Kazakhstan and it still is a very popular hotel among many luxury travellers and elite businessmen.
Although Hotel Dostyk is right in the middle of the city, you don't notice that busy and chaotic traffic outside for the way the building was constructed. It is a very solid building with a historical touch to it and therefore protected by law.
Get rates for the Hotel Dostyk Almaty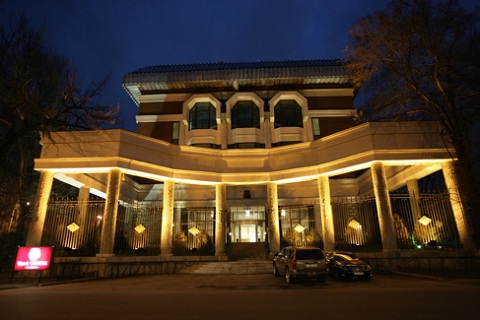 ---
The New Look

---
The hotel has recently had a major make up of the interior. While keeping the old traditional style, the Dostyk hotel has seamlessly integrated the new modern designs into the building, so that the guests can still experience the way the Soviet communist elite lived.
I haven't personally stayed in the Hotel Dostyk. But we once treated ourselves to 12 o'clock Sunday breakfast some time ago and had quite a few evening meals. And I couldn't fault it. I enjoyed their tasty food, quality service and hospitality of the staff.
I know that many people who stayed their once, do not look for other hotels and stay loyal to the Dostyk during their repeated visits.
---
Where abouts in Almaty?

---
When you walk down the small streets next to the hotel, like Tolebay Street, a small street to your left when coming out of the hotel, you may notice the plaques marking some significant people of Kazakhstan, who lived in these houses.
It is within walking distance from many Almaty tourist attractions, museums, theatres and some historical buildings.
This Google map shows the satellite picture of the Dostyk Hotel. You can view the same map in a Street View. You can also zoom in and out to see the area better.
Click on the blue text under the map to see it in a larger scale.

View the Dostyk Hotel in a larger Google map
It is within walking distance from many Almaty tourist attractions, museums, theatres and some historical buildings.
When you are in the Dostyk Hotel, you are close to many historical buildings, such as the other ex Soviet hotel - Hotel Kazakhstan. You can not miss it, as it is a 25 storey building. Look to your right when you come out of the main entrance of the hotel. The Kazakhstan hotel is only two very short streets from where you'll be standing.
In 2 min walk from the Kazakhstan Hotel towards the mountains pass by the Republican Palace, you can take a cable car to Kok Tobe.
It is a hill where the Almaty TV Tower is located and from where you will have the greatest view over the city and have some fresh air.
Click on the picture to see in a larger scale. It was taken by Susan S from Flickr.com.
YOUR Favourite Kazakhstan Luxury Hotels?
Do you have tips on, or a great story about your stay in a Kazakhstan Luxury Hotel? Share it!
---
---
Back to Kazakhstan Luxury Hotels
Return from the Hotel Dostyk Almaty to the Guide to Kazakhstan
---
---