---
The Charyn National Park -
The Canyon and the River

---
The Charyn Canyon is one of the most popular places around Almaty.
Photo taken by Peretz P.
Many people compare it to the Grand Canyon of California. Of course, sizewise it's smaller than the Grand Canyon, hence the nick name "little brother of the Grand Canyon". The rock formations, the colours resemble that of the Grand Canyon.
Below is the weather forecast for Panfilov or todays Zharkent which is not too far from the area and has about the same weather as the Canyon does.
---
Valley of Castles

---
Although the Canyon stretches around 154 km alongside the River, the most popular part of it is only 2 km long and it's called the Valley of Castles. Why?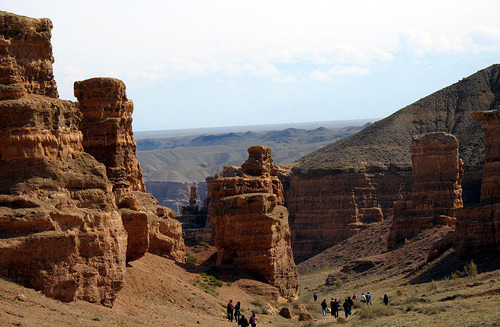 Photo taken by Peretz P.

The rocks and slopes round the area resemble the old ruines left from the ancient fortresses. It makes you wonder once again, how the Mother Naturemanaged to get these architectural masterpieces.

And only about 20 km (12.5 mi) away, there is a Grove of a very rare species of the Ash Tree. The Sogdian Ash Tree Grove, that survived the Glacier Age.
The Canyon, the River and the Sogdian Ash Tree Grove are all within the territory of the Charyn National Park.
---
How to get there?

---
| | |
| --- | --- |
| | |
| By helicopter? | By car? |
| | |
| By bus? | On foot? |
You could also hire an ordinary local car with a driver for a day. It takes 3-3,5 hours to get to the Canyon from Almaty.

There are lots of bus tours organised by many travel companies.

And if you are an adventure traveller you can also get there by the sceduled bus services up to the turnoff to the Canyon and then walk about 15 km (9.3 mi) to get to the Valley of Castles. It's possible, but not recommended, unless you are used to harsh conditions. Extremely hot in summer and extremely cold in winter.
---
Where Is It?

---
Take Kulja Highway from Almaty as shown on the map below. Keep driving, riding or walking on this main road.

On the way you'll pass places like Chilik, Baiseit, Kokpek. After just over 180 km when you hit the sign to the National Park, turn left to the off road car trail. Another few km or mi and you are there.

If you don't intend to descend as far as the River to the depth of the Canyon, then a 2WD will do you, as the road is not as bad as you expect. ;-)
View
Kazakhstan Landmarks
in a larger map
---
---
Courtesy of Ivan S. Abrams
| | |
| --- | --- |
| | |
| Sculptures | Donald Duck? |
| | |
| At the Edge of Charyn | Climbing Bear |
| | |
| Valley of the Castles | Views |
More Pictures of the Canyon taken by Peretz P.
| | |
| --- | --- |
| | |
| Smileys on Rocks | Natural Masterpiece |
---
---
Return from the Charyn to the Kazakhstan Pictures
Back to the Kazakhstan Discovery home page
---
---